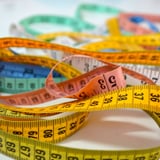 Getting into shape is no easy feat. It's a major lifestyle change that suddenly uproots you from the couch, makes you dump half the items in your fridge that make your mouth water, and requires you to get a little help or guidance from someone who can keep you accountable. For some, that's a personal trainer who'll make you do burpees and make you stop eating foods that make you burp. For others, it's a weight-loss program, one of the most popular being Weight Watchers, the famous program that Oprah Winfrey constantly boasts about.
Weight Watchers has been ranked 2017's No. 4 best diet overall, the No. 1 best weight-loss diet, and the No. 1 best fast weight-loss diet by U.S. News, so chances are, you've heard someone, somewhere, talk about how they are counting their points. The diet doesn't focus on burning a certain amount of calories a day; it focuses on the foods you eat.
Every single food gets assigned a point value, which Weight Watchers calls SmartPoints, based on sugar, protein, saturated fat, and calories. Everyone on the diet gets allotted a different amount of points, based on age, gender, height, and weight. The diet lets you have your cake and eat it too, as long as you log those points.