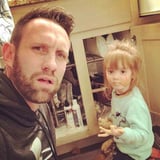 Steve Tate, a father of six, literally took his eyes off his toddler-age daughter Reese for two seconds, but that was long enough for her to wreak havoc in her mom's bathroom. In a hilarious Instagram post, he explained how things went from zero to a hundred in the makeup department, and it's a story any parent with a kid age 2 or 3 can relate to.
"Let me tell you the entire story and inform you what happened just minutes before Reese decided to cake her freaking face in weird, sparkly, liquid that smelt like some sort of cocoa bean . . . and apparently is supposed to go on women's faces."
Reese didn't stop at the face cream, though - she decided to play a little dress up, too: "Well, I walked in on Reese holding two oval-shaped pads (presumably belonging to that of a bra, ya know, to create some perk), to her chest area as if she knew exactly what they were for. What is going on?" Oy vey. And the kicker? Her mom's sparkly lotion wasn't exactly cheap.
"Oh and by the way - those pants she is wearing are now worth $300 based on the prices I've seen at Sephora and Ulta. They're now the most expensive jeans we own." Fair enough. Let's pray his wife isn't too mad when she gets home.