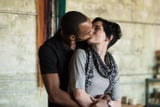 Vanessa and Robert met their photographer in downtown Lakeland, FL, for their morning sunrise engagement session. New to the area, the couple wanted an album filled with candid shots and smiles. They visited several fun locations, including the Poor Porker, a former car garage renovated into a lunch and wine spot, and the beautiful Lake Mirror.
These two originally met online after Vanessa came across Robert's profile by chance. She was intrigued by his quote about being different and messaged him asking him to elaborate. After chatting for a week, they learned that they were both in similar places in their lives and decided to go on their first date. Once Robert and Vanessa met in person, they hit it off immediately and quickly fell head over heels for one another. Robert knew he had found "the one" and began planning the proposal.
Six months into their relationship, the couple went on a seven-day cruise to Cozumel, Mexico. Vanessa jokingly mentioned she was looking for an engagement ring as they passed by a ring shop at their first port city, which Robert was completely on board with. Little did she know, he had been planning on proposing on their vacation all along. After realizing that Robert was serious, Vanessa found the most perfect ring at the next shop, where they were also able to buy the matching wedding band. Vanessa gave him the ring and told him not to let her see it until he decided to propose one day.
While at dinner just a few days later, the maitre d' announced to the entire dining room, "Well, now it's not very often we have this happen on a cruise ship, but I have Robert here who is going to propose to his long-time love." All the guests began cheering, and Robert got down on on knee and asked for Vanessa's hand in marriage with the very ring she picked out.
See their adorable engagement photos!