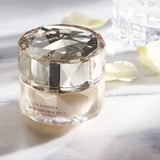 If my makeup bag and I were stranded on a desert island, foundation would easily be the first thing to go. Call it lucky or unfair, but the complexion gods blessed me with good natural skin. My tone is fairly even (save for some minor under-eye darkness), I get a single monthly zit right before my period, and my only real gripe is being oil-prone. Not needing foundation saves time in my morning routine and leaves my Sephora receipts shorter, so I don't go out of my way to use it.
During a recent raid of POPSUGAR's generously stocked beauty closet, I perused the shelves for any new launches that might pique my interest. I swiped a few mundane lip liners and a replacement body wash, but nothing truly caught my eye . . . until I opened the foundation drawer. A champagne-colored, gem-capped jar glared up at me so brightly, I could've sworn it was reflecting light beams as a chorus of angels sang in unison. As fate would have it, this jar was Clé de Peau's "The Foundation" in just my perfect shade.
I had heard about this product before. With a whopping $250 price tag, it was dubbed the "world's most expensive foundation" and tested by beauty giants like Tati and Jeffree Star. Backed by ultrafancy ingredients like age-defying golden silk essence and smoothing Japanese pearl, the luxe formula proved to be long-wearing and impressively radiant in their reviews. It was still beyond what I'd ever consider paying for any complexion product. But now, as a beauty-obsessed editor with a free jar in my hands, I knew it was my duty to share my own findings with the internet. Read on to hear my first impressions, and see how it held up after a day of wear.