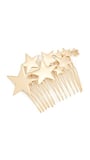 When Johnny Weir rolled up to the 2018 Winter Olympics Closing Ceremony, he did so in typical "doctress" style. Along with cohost Tara Lipinski, the figure-skater-turned-NBC-commentator famously brought 21 suitcases to tote all his fabulous costumes, and his last one of all did not disappoint.
The anchor of his all-white, pussy-bow look? A celestial Erickson Beamon hair brooch that stole the show, earning comparisons to everything from The Hunger Game's Caesar Flickerman to NBC's "The More You Know" logo.
If you want to emulate such fabulousness in your day-to-day life, then check out eight similar, starry styles ahead.