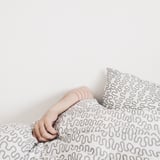 When we're sick, we feel pretty miserable. We're feverish and achy with low energy. That's not to say that sometimes, we wonder if a bit of nooky may make us feel better. But is sex when you have the flu a good idea?
"Influenza is a serious virus that can be potentially life-threatening, especially for pregnant women, children, and the elderly," said Dr. Christine Sterling, an award-winning ob-gyn and women's health expert practicing at West Coast OB-GYN in San Diego. "A person with the flu can be contagious for two days before having symptoms and up to seven to 10 days after symptom onset. Because the flu can be life-threatening for many, preventing transmission even among otherwise healthy individuals is important."
"The recent flu epidemic is a cause of concern both nationwide and abroad. Emerging data has shown this recent flu strain is responsible for significant morbidity, with increased hospital visits as well as an unprecedented number of deaths for this stage in the flu season, according to the CDC," said Dr. Arno Rotgans, endovascular surgeon at NYC Surgical Associates.