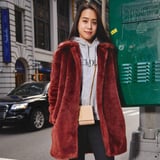 For fashion girls, getting dressed up for New York Fashion Week is like a rite of passage. There's pressure to look good at shows, especially if you're sitting front row, and to be harmonious with the stylish crowd. I mean, there's the chance you could potentially run into Anna Wintour! And what if that run-in feels like a scene out of The Devil Wears Prada? You know, like when Andy Sachs awkwardly meets Miranda Priestly for the first time. I kept all those notes in mind while picking out outfits for shows last year. But this season, something changed. I didn't give a sh*t about dressing up.
That's not to say I went to shows in sweats (I thought about it), but I wasn't going to stay up until midnight picking out a look or spend my weekend creating seven "Fashion Week-worthy" outfits. I decided to dress like myself this season - to be genuinely satisfied with what I already had in my closet. I did not ask designers or brands to borrow clothes, though fashion editors are notorious for doing this ahead of Fashion Week. (I did, however, borrow combat boots, only to participate in a fellow editor's photo shoot.) But I most definitely didn't buy new pieces just to wear to shows.
What was my motive? I wanted to prove to myself that my everyday style isn't "bleh" and that I don't need to dress up for shows to have fun. (If you thoroughly enjoy doing that, though, all the power to you.) I wanted to simply go appreciate a designer's collection without making the day all about me and my outfits. I think many women beat themselves up over not "having anything to wear" out of fear of repeating separates, but if you have invested in quality pieces that you feel good in, who cares if they're not statement-worthy?