Indian food industry is scaling heights in world food map and we have plenty of chefs to credit for the feat . Young, handsome and talented, these chefs have become a star in their own right, boasting of a following that can give some of our hottest Bollywood stars a run for their money. In addition to their kitchens, these brilliant chefs have dominated web and TV shows too! Here's presenting to you 5 amazing Indian male chefs who are breaking stereotypes, one great dish at a time.
1. Vikas Khanna

He is perhaps the only Indian chef who not only has a biopic to his credit, but the documentary based on his life was also screened in the prestigious 69th Cannes festival. And why not? The life journey of this dashing chef is worthy to be told, and 'Burried Seeds' captures it beautifully. Soon after he was born, the doctors claimed that he may never be able to walk due to his misaligned legs. Little did they know that the Michelin star chef was meant to soar the sky. Vikas who grew up mastering his art in his grandmother's kitchen in Amritsar, worked his way up to being one of America's top chefs. Khanna's illustrious repertoire boasts of association with some of the best chefs of the world like Gordon Ramsay and Bobby Flay. Khanna was also the judge for Masterchef India 3 and 4. Khanna who has worked with some world-class properties like The Taj, Oberoi, Welcom Group, and Leela Group of Hotels is also the proud owner of the popular restaurant Junoon in New York. Khanna has also hosted dinner for former POTUS Barrack Obama. In the year 2011, he was also named as the 'Sexiest Man Alive' by People Magazine. Mind you, he is just 46. What more do you have on plate Mr. Khanna?
2. Ranveer Brar

Another dashing chef, another journey nothing short of inspiration. Chef Ranveer Brar's early tryst with the world of cooking were in his neighbourhood's Gurudwara's Langar. He would help the cooks who prepared the massive Langar each day for thousands of people at the tender age of six. Having worked with the top properties across the country and globe, Chef Ranveer truly announced his arrival on to the scene when he launched Banq - a French Asian resto that won the best new restaurant in the world award by Wallpaper magazine, in Boston. He became a household name in the country when he judged the 4th season of MasterChef India . Chef Ranveer has also been the face of various TV shows like The Great Indian Rasoi, Health Bhi Taste Bhi, Ranveer's Cafe, Food Tripping and Thank God It's Fryday. Chef Ranveer is also a social media sensation, with a following of 1.65 Million on twitter, each of his food post becomes a rage as soon as it goes live.
3. Chef Aditya Bal

So here's a man who loves good food, loves to cook, loves to travel and is an adventure junkie. Does it get more impressive than that? Chef Aditya Bal became a TV sensation when he hosted NDTV Good Times popular show, "Chakh Le India". Exploring the hidden food treasures of the country, visiting streets, homes, and discovering local cooking techniques, Bal made food an adventure we all wanted a taste of.
4. Chef Kunal Kapur


The face of Master Chef India, season 1, 2 and 3, Chef Kunal Kapoor is one of the best things to have happened to the Indian food scene and we have umpteen reasons to convince you why. Coming from the family of bankers, his tryst with the world of cooking began with little family brunches, and Sunday breakfasts. Chef Kunal Kapoor now stands tall and proud amongst the India's top chefs. Chef Kunal is the co-owner of the pan-Indian restaurant in Dubai, 'Patiala by Kunal Kapur'. Chef Kunal is also a famous TV personality, apart from MasterChef series, he also has TV shows like 'The Foodie, comes to America' and 'My Yellow Table' to his credit. His great bank of knowledge in North Indian foods and kebabs is famous in the entire food circuit. Kapoor is also the author of - 'A Chef in Every Home' and 'Men Can't Cook'.
5. Chef Saransh Goila


If you call yourself a true Butter chicken fan and have not tried the famous Goila Butter Chicken, are you even a Butter Chicken fan? Goila has tried his hands at cooking, fitness (Did you know he has had the most inspiring weight loss journey when the chubby Delhi boy came down from weighing 95 to 65 kgs by the end of his college), and acting. Yes you heard us, Chef Saransh studied under Barry John for six months, understanding the nuances of acting. The much celebrated chef holds a Limca World Record for the longest road journey by a chef ( he travelled 20,000 kilometres across India by road in 100 days). He is also a famous face on the TV and has produced and hosted various cooking based TV shows.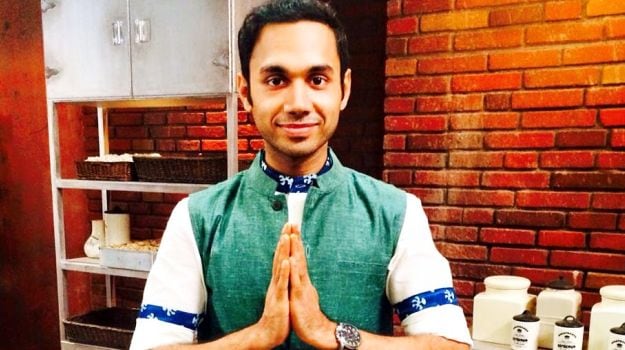 These are men who cook, these are men who are successful and stars in their own right. Did we miss out on your favourite Indian male chef? Do let us know.