Friends star Jennifer Aniston is a taco lover, who would not mind having the Tex-Mex favourite for breakfast, lunch and dinner. And she is not alone. Back in 2016, there was even a book called The Taco Cleanse, which went on to encourage people to go on a tortilla -based diet to lose the excess weight. And now Whole Foods, an American supermarket chain has gone out and released trends for 2018 according to which we will be having a lot more tacos not only for lunch but also for breakfast. And we will be having them in interesting ways like replacing a regular tortilla with lettuce. Basically tacos are going to be hot in 2018. And while the world may be waking upto taco magic later next year, things seem to have moved quite a bit in this part of the world. We are not only open to trying different combinations of tacos, but have been giving our own desi twist to it, serving it in theplas, sourdough and even in a besan cheela.
Taco 'about it being versatile
Taco lovers have it good back in Mumbai with a variety of delectable options to choose from. As in the case of Farzi Cafe that has used a traditional lamb dish like dal gosht and transformed it into something hatke. Chef Kunal Patkar, sous chef, Farzi Cafe, says, "We serve slow cooked Peshawari lamb preparation over homemade tacos. The tacos are made using the paste of dal tadka and refined flour. To give a bite and mellow down the spice level of the lamb mixture, we use green chutney mayo kachumber." And there's a lot more out there. Manashwi Gupta, co-founder, The Benedict Bistro and Bar is all for experimenting with taco flavours. Gupta says, "We serve a variety of tacos with jackfruit, guacamole, pilaf, red cabbage, tomato salsa and sour cream. But there's so much more that can be done especially if it becomes a breakfast trend."
As evident, we have mixed things up, beans and guacamole may be a staple in a taco but the desi adaptation of this Tex-Mex favourite has gone way beyond that experimenting with not only the fillings but also the taste and texture of the tortilla.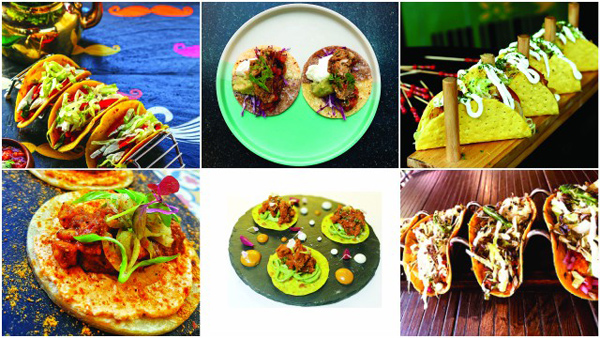 Tacos for breakfast in 2018
While we may look at tacos as something to snack on later in the day, things could change next year according to a list put out by American supermarket chain Whole Foods, who believe we could see a lot more of it on breakfast menus. And most chefs back home seem to be on board with the idea. Anand Morwani, co-founder, director and executive chef Brewbot Eatery & Pub Brewery, for example believes that bacon, eggs, chorizo, breakfast sausages, sweet potato, pickled jalapenos, salsa verde, tomato, black beans, re-fried beans along with different kinds of cheese and sauces could really work well for morning breakfasts or an all-day breakfast taco menu! While chef and owner Harmeet Singh of Turban Tales, is happy giving it the desi treatment. He says, "I am glad that tacos have picked up in India, we have given it a traditional twist using beans, lettuce with some special in- house sauce in a besan cheela taco base, which is otherwise consumed for breakfast too. I definitely feel, people will eat tacos in breakfast because of its taste and it acts as a wholesome start to the day." Gupta too is all in favour of experimenting with tacos as a breakfast option and recommends chorizo, eggs, potato, mushroom, tofu scramble with cheddar as breakfast options that one could work with. Siddharth Kalyanaraman, sous chef of Not Really Indian suggests making Parmesan crisps in the form of a taco and stuffing them with some lettuce and ham to get a ham and cheese taco. He says, "One can use the lettuce as a shell like for a dolma and stuff them with some herb scented sautéed mushrooms. The options are endless." Chef Kunal would love to do egg akuri and pav tacos. He says, "It's a personal favourite. Cremini mushrooms, string potatoes can be layered on thinly sliced pav and can be used as a base to create a taco sheet."
Not just breakfast, ice cream tacos will be a hot trend too!
According to Chef Paul Kinny, culinary director, Phoenix Mills Limited, "The beauty of breakfast meals is that you can take any regular dish and breakfast-ify it. For example, you can take a burger, put eggs and sausages in it and make it a breakfast burger. Tacos can also be made into a breakfast meal. One can add fun fillings like baked beans, smoked sausages and boiled eggs or sunny side up. The shell of the taco can be made using nachni or buckwheat flour. I also see the trend of ice cream tacos catching up in the city. One can make an oat meal pancake and use that as a soft taco shell and fill it with hazelnut spread and nuts."
So, while the world waits for taco fever to hit a crescendo, we seem to have already embraced it, making it our own.