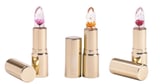 Don't lie - you've practiced your imaginary acceptance speech into a hairbrush "microphone" at least once in your life. If you truly want to commit to the award season fantasy, you can up your game by purchasing a mystical beauty product that will be in this year's Oscars gift bag.
Per tradition, every nominee is treated to a swag bag chock-full of expensive goodies. Last year's gifts (such as a private stay at a ranch in Northern California and a $100 cellulite massaging mask) totaled up to $100,000. Yup, that's more than most yearly salaries.
Luckily, this year, one totally affordable product will grace the luxe lineup. According to Albuquerque CBS affiliate KRQE, a young startup called Blush and Whimsy will gift its Magical Color Changing Lipstick ($22).