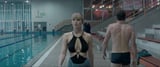 We're starting to notice a recurring pattern with Jennifer Lawrence and sexy onscreen swimsuits. When we watched her star in Passengers, all we could think about when we left the theater was her character's sporty yet undeniably hot mesh one-piece. And now, after watching the trailer for her upcoming film Red Sparrow, we have another case of serious bathing suit envy.
In the film, which premieres in 2018, Lawrence portrays a ballerina turned secret agent and seductress. A quick clip from the trailer shows her character walking by a pool in a halter-style one-piece that would make anyone blush. The black swimsuit features a cleavage-baring neckline and revealing side cutouts, leaving very little to the imagination. And she looks dang good in it!
Obsessed with this suit as much as we are? We scoured the internet to find where to purchase this exact one-piece and other similarly sexy styles, all of which you can browse ahead. We're already counting down the days to the Red Sparrow premiere on March 2, 2018, so we can see what other sultry outfits Lawrence will be sporting on the silver screen.