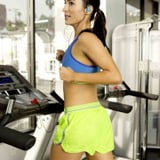 It doesn't matter if you've been running on the treadmill for years or you just started a few weeks ago. If your goal is to lose weight, avoid these common mistakes - they could even cause weight gain!
Not Pushing Yourself
One of the best things about running on a treadmill is that you just turn it on and go! You can get into the habit of rocking the same speed during your whole workout, but steady-state cardio isn't the most efficient use of your time. You'll burn more calories and target belly fat if you incorporate bursts of sprints every few minutes. It'll require you to push past your comfort zone, but it'll save you time at the gym and help you lose weight faster. Try this 30-minute interval treadmill workout.
Fearing the Incline
Hills are hard! No wonder you don't touch the incline on your machine. But pumping up the incline, even just a little, will target your lower body more. This not only creates calorie-burning muscle mass in your booty and thighs, but it'll also help you burn more calories during your workout. Adding incline will also make hills feel easier for future workouts. Here's a "get a better butt" treadmill incline workout to try next time.