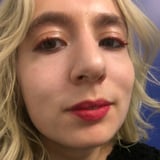 After this season's gnarly flu left me quarantined in my windowless bedroom for almost a week, I could practically hear Diana Ross singing "I'm Coming Out" as I emerged from my cough-syrup-infested cave. No offense to anyone still taking their sick days, but since recovering, I really don't want to make myself look ill again. That's why, despite the fact that red eye shadow looks constantly clog up my Instagram feed, I wasn't all too jazzed to try Christian Louboutin Les Yeux Noirs Lash Amplifying Lacquer ($70). As Cardi B in her red bottoms would say to crimson eye makeup, "I don't f*ck with you."
But like it or not, the tube's hefty, gilded art deco packaging convinced me to slip it into my purse one night. The thick wand and gooey formula truly spoke my love language, so I decided to test it out. In the interest of not looking like a dying character from Les Misérables, I reached out to makeup artist Carolina Dalí on her tips for dipping my lashes in cherry goo.
"Everyone's concerned about looking sickly, but there are so many ways to get around that," Dalí assured me. She then surged into a laundry list of different ways to rock the look, but before that, there's one way you definitely shouldn't wear it. "It becomes a bit cartoonish if you wear red on the top and the bottom lashes. It's overwhelming, and that can make you look sick."