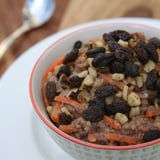 You heard of the freshman 15? For me it was more like the freshman 40. No joke. I was a recent vegan convert, and only having access to the dining hall meant living on pasta, bagels, french fries, and cereal (Fruit Loops are vegan!). I was a total junk food vegan. After seeing a photo of myself at my brother's wedding, it really sank in that I needed to change my habits and lose weight.
Fresh vegetables and fruits weren't part of my diet, so when I started incorporating those, coupled with running, the pounds started to fall off. But then I hit the dreaded plateau.
I instantly pointed my finger at carbs. It must be the whole-wheat pasta, quinoa, and oatmeal! But when I cut those foods from my diet, the scale still didn't budge. I actually started to gain weight. I was shocked and very frustrated. You better believe I ate a huge hunk of bread with my soup that night and said, "Eff this!"