Shilpa Shetty is also a health icon. Apart from having a YouTube channel dedicated to healthy food recipes, Shilpa also has a cookbook and a cooking game to her credit. The actor's Sunday binge videos have made her very popular on Instagram and her fans and followers look forward to watching her weekly binge session. Shilpa Shetty regularly posts pictures and videos of healthy and wholesome dishes on Twitter and Instagram, continuously inspiring us to spruce up our own food with nutritious ingredients.

Case in point is this afternoon, when Shilpa posted the picture of a salad on her Instagram story. Have a look!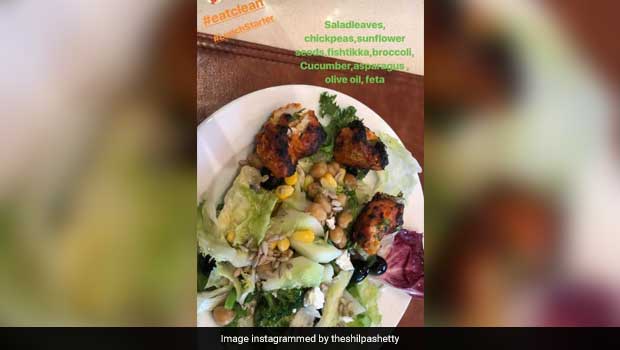 That looks delicious, doesn't it? It's incredibly healthy too, as is clear from the list of ingredients that Shilpa has mentioned, for the benefit of those who would want to replicate the dish at home. The salad is mix of the various nutrients that make for a perfectly balanced meal. It includes boiled chickpeas, sunflower seeds, broccoli, cucumber, asparagus and fish tikka, tossed in olive oil and topped with feta cheese. Chickpeas are high in fibre and one of the best plant-based sources of protein out there. Also Read: Shilpa Shetty Kundra's High-Power Salad Is Giving Us Major Healthy Food Inspiration
Sunflower seeds are great salad additives as they are rich in Vitamin E and B1 and some trace elements like manganese, selenium, phosphorus, magnesium, folate and niacin. Broccoli is also rich in fibre and low on calories, while cucumber is one of the best summer veggies to include in your salads due to its hydrating properties. Asparagus is rich in vitamins A,C,E and K and chromium, which enhances insulin's ability to transport glucose into your cells.
Fish is another excellent source of protein and is also rich in heart healthy omega-3 fatty acids. Olive oil is also a healthy salad ingredient as it's another great source of cholesterol-lowering good fats. Lastly, feta cheese is one of the best cheeses to put in your salad, as it's low on calories and has a nutrient-rich profile that includes B vitamins, phosphorus and calcium. It's pertinent to mention here that eating a pre-lunch salad is very healthy as it bumps up your vegetable intake by over 20 per cent. Also Read: Shilpa Shetty Kundra Is A 'Breakfast Gal': Here's What You Should Learn From Her!
A pre-meal salad works in your favour because when you sit down to eat something, you're likely to eat anything that is put in front of you to soothe your hunger. So now you know how Shilpa Shetty manages to look so effortlessly gorgeous despite indulging every week!
Bollywood diva