Feeling good, feeling glowy? You're almost at the finish line!
Welcome to Day 10 of GLAMOUR's 14 Day Skin Detox Challenge.
Collagen — we talk about it a lot, but what exactly is it? In the simplest of terms, collagen is a protein that sustains the skin, providing integrity, firmness and elasticity. The more collagen we have, the more supple the skin is. Today we're going to look at how you can boost your natural production.
DAY 10: Encouraging collagen
TODAY'S RECIPE
BAKED SALMON SKEWERS WITH HOMEMADE PESTO | SERVES 2
Recipe by Roz Purcell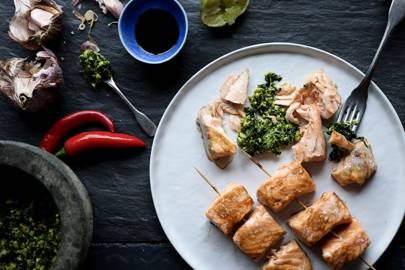 "This recipe includes lots of great ingredients to boost your skin and get it glowing," says Roz Purcell, bestselling cookery author and entrepreneur. "Salmon is one of the sources of omega 3 fatty acids, which helps keep your skin moisturised. And walnuts contain a big dose of vitamin E, selenium (an antioxidant with a high mineral count), omega 3 fats and zinc — all of which help build up your collagen levels to keep skin tight and protect against cell damage."
INGREDIENTS
25g fresh basil (stems torn off and discarded)
50g fresh coriander (stems discarded)
2 large garlic cloves peeled
1″ ginger peeled and chopped roughly
Zest half a lime
Juice 1 full lime
2 tbsp. toasted olive oil
50g walnuts toasted preferably but raw works well too
Pinch sea salt
2 skinless fillets of Salmon
2 tbsp. tamari or soya
4 skewers and a lined baking tray
METHOD
Preheat the oven to 200-C. Make sure the oven is preheated.

Pierce the salmon pieces along the skewer and line on a tray then drizzle with some tamari.
Bake for 12-13 minutes until nicely pink and a tad browned. Be careful not to overcook here.
Now let's make the pesto! Grab your pestle and mortar, add the ginger, garlic, lime zest and pound into a paste.
Add the basil and coriander and pound into the paste leaving some chunks.
Next, add the walnuts, lime juice, olive oil and salt. Mix and grind until you get a nice consistency. I like mine kind of chunky but mix to suit your preference.
Drizzle over your baked salmon and enjoy!
TODAY'S ROUTINE
Remove all of your makeup.
Cleanse. If your skin is dry, consider switching to a cream cleanser. We like Clean Skin Gentle Cleanser £19 This Works.
Apply a collagen boosting mask (you should be able to find collagen on the ingredients list). Collagen Peel Off Modeling Mask £4.99 Masquebar is a really fun and affordable one to try. It comes in powder form inside a tub — you then add water and mix to create the mask. Once you have the paste ready you have to work quite quickly spreading it evenly and thickly onto the skin, because it soon dries into a rubber. Yes — rubber! When it comes time to remove it, you can simply peel it off in a downward motion. The underside of the mask stays nice and moist, keeping all hydration locked onto the skin, making the peeling process easy and painless.
Apply your serum.
Follow with an eye cream that also features collagen boosting ingredients. The skin around the eyes is more delicate than the face, which is why you need a separate and gentler formula to your face products. C + Collagen Brighten + Firm Eye Cream £63 Dr Dennis Gross SkinCare is a real goodie — it combines both vitamin C and collagen to create a powerful antioxidant blend that strengthens the delicate eye area by stimulating collagen.
Finish with a nourishing night cream. Regenerist 3 Point Age-Defying Night Cream £29.99 Olay is creamy and hydrating, making it perfect for winter.
Hero product: Collagen Peel Off Modeling Mask £4.99 Masquebar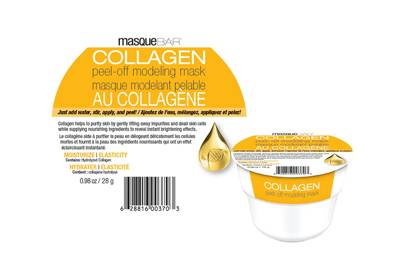 TODAY'S DETOX TASK
Stretch and bend
Did you know that stress can impact your skin health?
And when you're already conscious about the appearance of your acne, eczema or psoriasis, stressing about it can begin a vicious cycle.
Practicing yoga and meditation, or even just taking the time to stretch every now and then can help you to de-stress, combined with the additional benefit of physical activity, which increases blood flow to flush toxins from the skin.
If you only learn one yoga pose, it should be Uttanasana. Also known as The Forward Fold, this pose is good for relieving stress, as well as anxiety, headaches and fatigue.
It's really easy to do, simply let the crown of your head hang down to your knees, keeping your heels to the floor. If you're flexible enough, keep your legs straight and touch the palms of your hands to the floor. You can bend your knees slightly if needed. Hold for one minute.
The pose encourages blood to circulate to the head and face, and with regular practice, should have a beautifying effect.
Click here for Day 11 instructions.
Our skin detox is a two-week plan that's all about resetting, renewing and taking care of your skin both from the inside and out. It's based on advice from dermatologists, nutritionists, dieticians, facialists and product developers.
Each day features a skin-boosting recipe, routine recommendations and tiny tasks to set yourself on the path to great skin. You can start the detox at any time and find the full instructions here. Share your journey with us using the hashtag #GlamourSkinDetox.