Welcome to Day 1 of GLAMOUR's 14 Day Skin Detox Challenge!
Pumped? Excited?! READY FOR YOUR SKIN TO BE AS GLORIOUS AS YOU ARE?!
Well then, let's get stuck in.
DAY 1: Purify
TODAY'S RECIPE
DETOX DRINK | SERVES 1
"The liver can often be the biggest casualty of the party season", says facialist and wellness expert Abigail James. "The health of the liver is vital to the vibrancy and clarity of the skin as its role is to remove toxins, such as alcohol and caffeine, amongst other things."
This easy to make hot drink will help to give your liver a kickstart every morning. Repeat the recipe every day throughout this detox for the best results.
INGREDIENTS
Wedge of lemon
Pinch of turmeric
Pinch of cayenne pepper or fresh ginger
METHOD
Boil the kettle
Place the lemon wedge in a mug, giving it a squeeze
Add turmeric and cayenne pepper (or ginger if you prefer the taste)
Pour in the hot water and stir
TODAY'S ROUTINE
Remove your makeup. This should always be done before cleansing, otherwise, your product will be too busy breaking down mascara and wiping away foundation to give your skin a proper clean. Think of it as a 'pre-cleanse'. Even if it's just a once over with a face wipe.
Cleanse your skin using a purifying cleanser.
Elsie Rutford, co-founder of Bybi Beauty likes to use Purifying Cleanser £62 Tata Harper. "It contains broccoli extract and fruit enzymes that work to cleanse the skin, helping to refine pores and flush out impurities." Use circular motions to lather and work it into your skin before rinsing.
Follow with a detoxifying face mask. Activated charcoal is a good ingredient to look at for, as it draws out toxins and excess oil for thoroughly cleansed skin. Detox Dust £22 BYBI Beauty, can be mixed with any liquid product (think serums and oils) to form your own super paste, but Elsie recommends mixing with apple cider vinegar (which is naturally high in AHAs) for a resurfacing treatment. Leave on the skin for 15 minutes before rinsing off.
Spritz your skin with a hydrating mist containing hyaluronic acid to lock in moisture and plump the skin. Hyaluronic Acid Spritz £7.99 B. Confident is a reasonably priced option.
Follow with an antioxidant-rich serum to encourage skin cell rejuvenation. If your skin is on the dry side and you prefer a soothing formula,
try Chia Serum £65 Perricone MD.
Finish with a moisturiser featuring similar antioxidant properties. Elsie recommends Oil Free Moisturiser £31 Juice Beauty, which contains pomegranate and aloe vera.
Hero product: Detox Dust £22 BYBI Beauty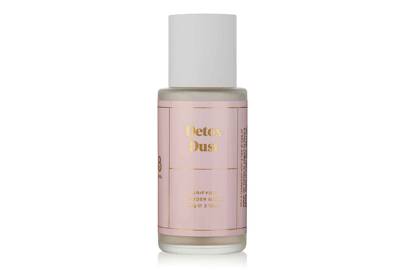 TODAY'S DETOX TASK
Dispose of expired beauty products
Did you know that beauty products have expiry dates?
Eeek! We bet you're thinking about that lipstick you've owned since prom.
And it's not only makeup that loses its magic, but skincare can also turn toxic, which is not so great for your skin.
Today, check the expiry dates on your products and dispose of any that are well past their use-by date.
Every product should have a little symbol on it indicating how long it will last once opened. If you find a symbol that says 6m, that means the product should've been used within six months of opening. Likewise, if it says 24m, it should've been used within two years, and so on and so forth.
Facialist Sarah Chapman says: "An expiry date ensures that you are always using your products when they are at their freshest and most potent. Products will degrade at different rates depending on how its packaged, for example, light and air sensitive potent active ingredients should be packaged in airless pumps."
If you'd like to recycle your beauty containers and packaging rather than throwing them in the bin, you should take a look at Garnier's new recycling initiative in partner with Terracycle. There are various drop-off locations or you can download a free UPS label and arrange a pick-up. It's a quick and easy way to do your bit for the environment.
Click here for Day 2 instructions.
Our skin detox is a two week plan that's all about resetting, renewing and taking care of your skin both from the inside and out. It's based on advice from dermatologists, nutritionists, dieticians, facialists and product developers.
Each day features a skin-boosting recipe, routine recommendations and tiny tasks to set yourself on the path to great skin. You can start the detox at any time and find the full instructions here. Share your journey with us using the hashtag #GlamourSkinDetox.