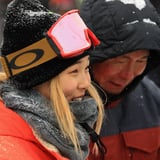 Image Source: Getty / Sean M. Haffey
When Chloe Kim won her first Olympic gold medal, one person who couldn't have been prouder was her dad, Kim Jong-jin. "My family has sacrificed so much for me to help me accomplish this dream of mine and get me to this point," she told NBC. "Being able to do it here, in their home country, is amazing."
Kim Jong-jin emigrated from South Korea to California in 1982 and quit his engineering job when Chloe was 8 to support her promising snowboarding career. Before Chloe won her gold medal, her dad told the Today show she was his "American dream," and he repeated the same sentiment after she took home the medal. In a 2016 interview with Visit California, the 17-year-old revealed her dad would drive six hours to Mammoth Mountain every weekend so she could train. "What would happen is that he would carry me out of bed. I would wake up in a new spot every time without even knowing what happened."