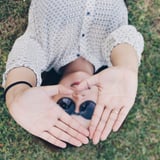 I've always been a romantic at heart. I love love, I love being in love, and I love being loved.
When I was younger, Valentine's Day was everything - more than Christmas and birthdays combined - because it was the one day of the year when all my feelings (and, hopefully, all my boyfriend's feelings) were put on the table. Maybe we would even say our first "I love yous"!
But as I got older, I started to care less. And it seems like a lot of women these days feel the same way. So is Valentine's Day dead? Perhaps. Here's why my husband and I don't celebrate the holiday.